Bodham Village, North Norfolk, UK.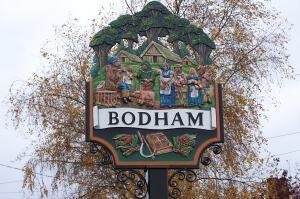 Bodham is a small village near the North Norfolk Coast on the main road (A148) between Holt and Cromer.
The Village has much to be proud of with lots going on for villagers and visitors to enjoy.
Our Village Hall has a wide variety of events that appeal to all ages, everything from Quiz nights and Film Nights to Horticulture.
Bodham has an excellent playing field with outdoor gym equipment - mums and dads can get fit while children play on the childrens' play area, the more unusual Bodham Croquet Club and is the venue for the Bodham Big Weekend, an annual event which provides fun for all the family.
We have a thriving Pub, The Red Hart, a cosy, old fashioned village pub which serves delicious top quality food. A small community with a big heart.
Excellent Fishing Lakes in the village make this a place worth a visit.
Information Wanted
If you have any information to add or a web site to link to please email us the details and we will update this page. Thank you.