Brampton village in Norfolk, England, UK.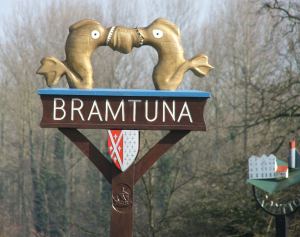 Brampton is one of the smallest villages in Norfolk and is almost certainly the smallest of all the places with the same name throughout the world. The village is located in the valley of the River Bure some 2.5 miles from the market town of Aylsham.
The village sign gives a clue to the fact that the village has a rich history. Archaeological finds go back to the neolithic but the glory days were in Roman times when the site was a bustling industrial centre with maritime links to the rest of the empire. Pottery and glass were the main items manufactured here.
The sign is based on a Roman brooch discovered in the village which can now be seen in Norwich Castle Museum. Excavations in the 1960s uncovered a Roman bath house and much evidence of industrial activity. It also identified the location of the port area from where the manufactured items were exported.
To find out more about Brampton please visit their web site: http://www.bramptonnorfolk.org.uk
Information Wanted
If you have any information to add or a web site to link to please email us the details and we will update this page. Thank you.