Cley village in Norfolk, England, UK.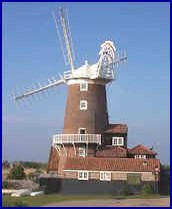 Cley is a beautiful and quiet village with a salt marsh environment situated on the unspoilt North Norfolk Coast. It is difficult to believe that it was once one of the busiest ports in the whole of England. It has a history of fishing, trading and piracy.
During the war years Zeppelin's were a common sight over Cley and despite there being thousands of military personnel it was never subjected to an air raid.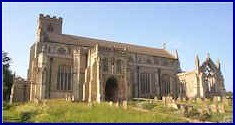 There is a very large church, which dates from around 1250 which hints at the size of what was then a 'town'. Salt was a most important commodity for the fisherman and merchants to import and the export of Oysters was once rife, it was also a very successful grain exporter. The coming of the Railway to Holt in 1884 sealed the decline of Cley as a port.
In 1086 the time of the Domesday Book, Cley was part of King Edward's Royal Manor of Holt. Cley marshes have an International reputation.
They are one of the finest bird-watching sites in Britain and the oldest Wildlife Trust nature reserve in the country. There are thatched birdwatching hides, which blend into the landscape and provide unparalleled views of the bird life. You can see bitterns, avocets, redshank, snow buntings, rare birds, waders and large flocks of wildfowl, no matter what the season there is always something for you to see.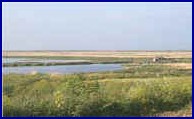 Cley Mill a Grade II listed building is a towermill used as a flourmill until around 1918 and then converted to a guesthouse in the early 80's.
It was built in the early 1700s and is an outstanding example of a preserved mill with sails.
Cley-next-the-Sea has many specialist shops and several amenities available to keep the visitor occupied for many enjoyable hours.
Information Wanted
If you have any information to add or a web site to link to please email us the details and we will update this page. Thank you.