Cromer town in Norfolk, England, UK.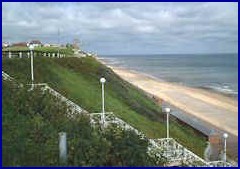 Cromer is a beautiful bustling seaside town known as the gem of the Norfolk Coast.
It grew up around the fishing industry and you can still buy the famous Cromer Crabs directly from the fishermen on the beach. There is safe bathing from the lovely sandy beach ideal for playing games or building sandcastles or you can stroll along the promenade.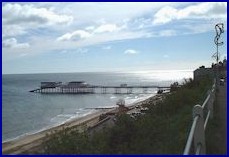 Jutting out into the sea is Cromer pier on which there is a genuine End-of-the-Pier show at the Pavilion Theatre which annually holds the World Famous Seaside Special, Celebrity Concerts and shows from May to October. Behind the theatre is the new Lifeboat house built in 1998 which houses Cromer's Lifeboat. The latest in design, she is loaded with all the latest electronic navigation and search and rescue equipment. Visit the lifeboat museum, which currently houses probably the most famous Lifeboat, RNLB H. F. Bailey whose coxswain was Henry Blogg.
For an even better view you can walk along the cliff top or gaze out to sea and wander the glorious gardens that line the cliff top walk.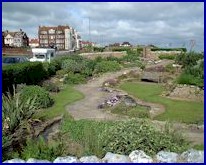 Each August Cromer holds what is probably one of the largest Carnivals in Britain. It is a full fun-packed week of fun and includes a Grand Parade on Wednesday evening, which includes over 100 floats, bands and majorette troupes. The Carnival ground on Runton Road has static displays for you to wander at your leisure. A Firework display and Lantern Parade are held on the Thursday evening.
At the centre of the town is a beautiful church and it is surrounded by a diverse range of shops, restaurants, pubs and amenities. It is packed with excellent accommodation ranging from Guesthouses, Bed and Breakfast to large very grand Hotels, many along the cliff top providing an unbeatable view over the coast.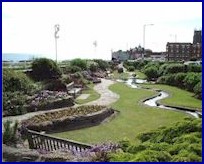 Some people say that you can hear the bells of Cromer's original submerged church ringing, to warn of bad weather.
For the sports minded there are the facilities for Golf, Squash, Lawn tennis, Cycle hire and much more.
Information Wanted
If you have any information to add or a web site to link to please email us the details and we will update this page. Thank you.