Fakenham town in Norfolk, England, UK.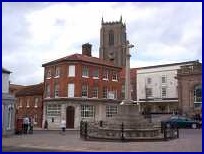 Modern Fakenham is a bustling market town in Norfolk with an abundance of amenities for all ages.
It is a delightful shopping centre which manages to mix ancient and modern together quite seamlessly.
You will find all that you want in this lovely town. The name Fakenham we believe is derived from the Saxon name Fair place by the river and dates back to the end of the 6th century, when Saxons decided to settle near the original course of the River Wensum. By the time of the Domesday Book there were over 100 people living in Fakenham and by the middle of the 13th century the town was far more important and had been granted a charter for a market which it holds to this day.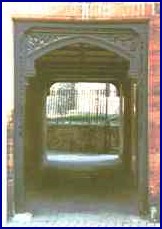 The market is held on Thursdays in the Upper Market and Cattle Market areas of Fakenham. This is the view of Church Lanes off Market Place. In 1377 John O'Gaunt the Duke of Lancaster became the Lord of the Manor and Fakenham Lancaster is still the towns full name. The railway arrived in Fakenham in 1849 with the line running north from Dereham, an east-west line arrived in 1880 and Fakenham Station was built, one platform from this station can still be seen.
There remain some impressive bridges which can be approached by foot along the riverbank or from Victoria Lane. The Miller family founded what was one of the countrys most important book printing companies and became one of Fakenhams largest industries.
It was based around White Horse Street and Old Oxborough Lane area and whilst most of the printing works have now been demolished or have changed use (one is now a chocolate factory), many small printing and print related businesses remain to this day.
The surrounding area is typical of Norfolk with gently rolling countryside, some woodland, one or two steep hills and agriculture plays a large role. It stretches around 2 miles along the north bank of the River Wensum and around one mile to the north.
Information Wanted
If you have any information to add or a web site to link to please email us the details and we will update this page. Thank you.