Happisburgh village in Norfolk, England, UK.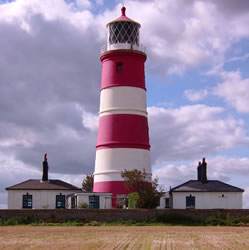 Happisburgh is a peaceful coastal village on the North Norfolk coast, to confuse visitors the pronunciation of the name being Haze-borough.
Happisburgh has two towers that rise above its thatched roofs and can be seen for miles over land and sea.
One is the Church Tower, which stands at 110feet, the church stands on high ground and is mostly 15th century, however Norman masonry can be found in the tower. There is an old screen and a lovely Madonna in a modern window.
Buried in the churchyard are 32 men of the crew of HMS Peggy wrecked in 1770 and three German airmen who were washed ashore and buried with military honours.
The second being the lighthouse, which was restored by Anneka Rice and maintained by enthusiastic locals, stands out due not only to its height, but also its distinct colours of red and white hoops. It is well worth a visit.
The famous Happisburgh lifeboat accomplished many spectacular rescues from seafarers aground in the infamous Happisborough Sands. The beach is sandy and the sea is one of the cleanest in Britain, however sweeping tides that keep the bathing water clean can also take you out to Sea so be sure to stay within your depth and donít swim when fast tides are running. The best time to bathe is during low tide.
Information Wanted
If you have any information to add or a web site to link to please email us the details and we will update this page. Thank you.