Hingham village in Norfolk, England, UK.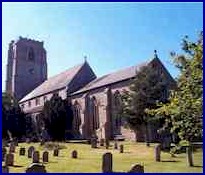 Hingham nestles in the heart of rural Norfolk. It is a small town ideally placed for exploring the County's many sights and attractions.
It is a conservation town well known for the grand Georgian architecture which surrounds the charming old market place. Hingham is a small, rural town which has a lively and active community.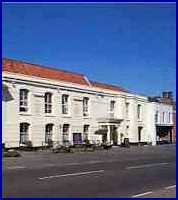 Its shops have the special character of a small market town but are up-to-date in what they provide. There is a purpose-built sports centre with floodlit tennis courts, and golf courses, riding centres, places to fish and excellent walks nearby.
You could even go sailing on the Broads. In the market place stands the carved town sign which shows some of the parishioners of the early 17th century leaving the town to sail to the New World. 
A similar sign stands in Higham in USA where many of those travellers went.
One of those who left was Samuel Lincoln, whose direct descendant was Abraham Lincoln, his bust can be seen in the church of St Andrews. This is a beautiful 14th Century church set in glorious grounds.
Information Wanted
If you have any information to add or a web site to link to please email us the details and we will update this page. Thank you.