Hockwold-cum-Wilton village in Norfolk, England, UK.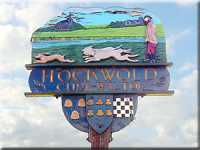 Hockwold is situated right on the western edge of Breckland, with some parts lying in the Fens.
Until the late eighteenth century Breckland was a sparsely populated region characterised by open heaths inhabited mostly by rabbits and sheep. Its dry, sandy soil blew up into frequent sandstorms, and contemporary accounts describe it as an absolute desert.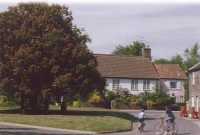 Nowadays, the name survives as an administrative and political district but the heath itself has all but disappeared through the creation of Thetford Forest in the 1920s, and of the so-called "battle area", established in 1940, which destroyed five villages and thousands of acres of farmland to make way for the largest concentration of military air bases in the country.
The village sign was erected as a gift to the parishioners through public subscription in 1973-4.†Mr. Harry Carter made it, and the plinth is built of local flints in which an original WILTON brick was embedded. The site was leased at the nominal rent of 5p a year by the Hockwold Village Working Mens Club and Institute. It portrays a sunny landscape with the church of St. James and its rare 14th century spire belongs to Wilton, and the interior of the church is rich in carved woodwork.
On the right is the now redundant church of St. Peter, Hockwold. The stream depicts the Little Ouse, which was the southern boundary of the parishes and the county. In the foreground are carvings of a hare, greyhounds and their handler, to recall the activities of the widely known Hockwold Coursing Club (1920-1939). Below the name plate are three devices.†Loaves of bread denote an early charity when six loaves were provided weekly for six poor Protestants.†Three beehives recall the 17 mentioned in the Doomsday Book, and the acorns represent the Pannage for 200 hogs and 30 goats.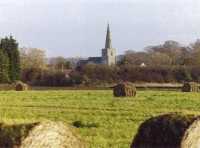 Finally the chequerboard pattern symbolises the arms of the Earl de Warrenne (1086) who held much land in this area. Only a few weeks after the unveiling of the sign it disappeared! The villagers were rightly angry, but eventually the culprit was discovered to be an American airman, whose joke went awry, and who was heavily fined as a consequence of his actions.
The sign was returned and repaired, and valued at the time at about √ā¬£200. The information and photographs on this page were kindly provided by Mr Nigel Nudds - Webmaster of the Hockwold-cum-Wilton village site. To view more information on Hockwold please visit the main site www.hockwold.info
Information Wanted
If you have any information to add or a web site to link to please email us the details and we will update this page. Thank you.