Holt town in Norfolk, England, UK.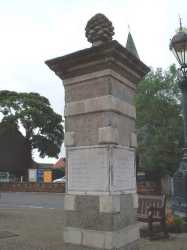 Holt is a small attractive town with many houses made of flint, a material much used in this area.
Old houses are huddled haphazardly in the heart of this little market town. It takes its name from the woods that surround it dating back to Saxon times. Situated just a few miles from the coast it offers a great range of amenities and a pleasant place to stroll around and take in the charm.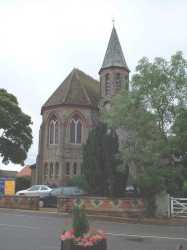 You can wander the art galleries where there are exhibitions of contemporary paintings, prints, sculpture and jewellery all year round. Holt has a full range of shops, pubs, restaurants and much more.
An avenue of lime trees lead to what is mostly a 14th century church.
The Gresham family originated in a nearby village of that name and moved into the Manor House in the 15th Century. Sir John Gresham was once the financial agent of Cardinal Wolsey and Thomas Cromwell, Sheriff and Alderman of the City of London and a member of Mercersí Company. He founded an independent school, which officially opened in 1562, Benjamin Britten the musical maestro, poet W. H. Auden and broadcasting pioneer John Reith were all educated in this school.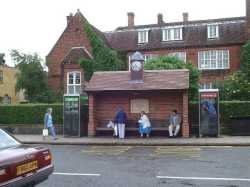 To the Western end of town is a large monument and on each of the four sides it shows the distances to various local towns and villages. Between Holt and Edgefield the road drops and then rises again where the moraine of an Ice Age glacier can be distinctly seen, it consists of gravel deposited by melting ice at the foot of a glacier.
Holt Country Park offers several walks through shaded woods beside small ponds where you can fish during the fishing season. Take your dogs for a peaceful walk, picnic with your family or just enjoy a stroll. Go to the station and catch a steam train to Sheringham on the North Norfolk Steam Railway, the Poppy Line.
Information Wanted
If you have any information to add or a web site to link to please email us the details and we will update this page. Thank you.