Horsey village in Norfolk, England, UK.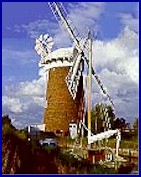 Horsey Mere is situated on the eastern edge of the Norfolk Broads, over 1900 acres changing from sand dunes along the coastal edge through maritime fen and grazing marsh, arable farmland to the open water of Horsey Mere and its surrounding reedbeds.
Horsey is a place of national and international importance. At Horsey, a wide range of resident and over-wintering birds can be seen. Additionally, there is a small, natterjack toad colony plus a wide range of dragonflies and butterflies such as the Swallowtail that can be seen at the appropriate times of the year. Horsey Mere is the only one of the Norfolk Broads called a Mere. This is because it is the only one to be surrounded by a high level bank, the name is derived from the old Dutch word mere meaning an artificial lake. The Estate was purchased in 1948 from the Buxton family, who still leases the farmland and are actively involved in looking after the estate.
Horsey Windpump, engineers constructed pumps at appropriate places on the surrounding wall, along with a series of drainage ditches leading to them in order to physically drain the land around.
The land levels dropped as a result of this drainage so today the mere is on a higher level than its surroundings. This pumping process is essential in maintaining the water level in the Mere and providing drainage to the surrounding farmland. The existing Windpump was built in 1911 to replace it predecessor, but in 1948, an electrically driven pump replaced it.
The Windpump was severely damaged by lightning 1943 but has since been restored.
Information Wanted
If you have any information to add or a web site to link to please email us the details and we will update this page. Thank you.