Overstrand village in Norfolk, England, UK.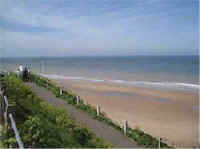 Overstrand is a lovely coastal village, which is part of what is sometimes called Poppy Land, situated on the North Norfolk Coast. It has a safe sandy beach and shallow bathing water.
You can take a walk along the clifftop to Cromer past the lighthouse, there you will see some outstanding views but be careful as there are numerous landslides due partially to erosion, but also due to the earth being undermined by underground springs which emerge from the cliff face.
Legend has it that a phantom dog called Black Shuck, which is said to be the size of a calf and has piercing red eyes, walks the cliff path. Those people of look at him are said to die within the year! So watch out for strange red-eyed dogs!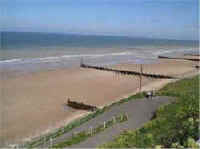 Gertrude Jekll, a landscape gardener, laid out a parterre garden for which the architect Edwin Lutyens designed an arcaded passage and alcoves.
Lutyens designed two other buildings in Overstrand. One was a Methodist church with a Roman-style stepped porch in brick and Overstrand Hall a 'pasticcio' of brick, flint and timber with Elizabethan and Roman Motifs.
The rooms are wood panelled and the tiles are delft, no expense was spared.
wo churches stand in the churchyard, the newest and smallest one in now closed and the older one has been renewed.
In the churchyard lie three people beloved in Norfolk in the last 100 years, Sir Thomas Fowell Buxton, Anna Gurney and Constance Rothschild (Lady Battersea) all of whom fought for reform of prisoners and freedom of slaves.
Information Wanted
If you have any information to add or a web site to link to please email us the details and we will update this page. Thank you.