Stiffkey village in Norfolk, England, UK.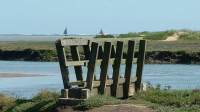 This quiet little coastal town is one of the most beautiful places on the Norfolk coastline. Artists should come prepared to spend several hours or days painting the beauties here. The beach is not that accessible so you may be better to travel further down the coast to swim. Stiffkey is sometimes pronounced Stookey.
A single track A road, many visitors opt to walk into the village from the Norfolk Coast Path. Going west, the Coast Path takes you to Wells-Next-The-Sea and going east takes you to Morston and Blakeney. Whichever way you go it is all beautiful and the sunsets are to die for!

The famous 'Stukey Blue' cockles emanate from here. There is a delightful 15th Century church standing by the green and a porch with mosaic of flint-work leads you inside.
Stiffkey is the home Francis Bacon's father and his son Nathaniel has a monument shaped like a draped coffin in the church.
There is an array of different facilities to use in Stiffkey and much accommodation is available to suit every need.
Information Wanted
If you have any information to add or a web site to link to please email us the details and we will update this page. Thank you.