Trimingham village in Norfolk, England, UK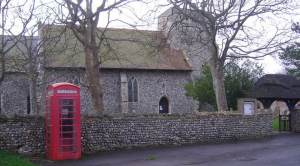 A lovely little seaside village.
The cliffs are over 200 feet high, and are being undermined by underground springs which flow from the face of the cliff and cause landslides, the debris from this is soon carried southwards along the coast by the current.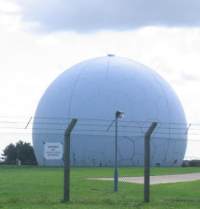 It is difficult to get to the beach and it is better to walk via Sidestrand or Mundesley.
For a long time after the end of World War II mines were found on this beach, but it is safe now. Be careful around High tide as you may find yourself cut off. It is a lovely sandy beach and worth the effort.
The parish church is believed to be the only one in England dedicated to the head of St John the Baptist, as legend says Trimingham was said to be the destination of the head of the Baptist brought from the fortress of Machaerus, near Judea where he met his fate. Many pilgrims once made their way to Trimingham and the village hall is still called the Pilgrim Shelter.
Trimingham is home to the remote air defence radar station RAF Trimingham, a satellite station of RAF Neatishead, which has a structure shaped like a giant golf ball located on the edge of the cliff on the coastal road. In November 2006 the Ministry of Defence admitted that the Type 93 radar spinning inside the dome had been out of alignment between November 2005 and February 2006, causing car engines and lights to cut out, and speedometer dials to swing up to 150 mph as motorists drove past.
Information Wanted
If you have any information to add or a web site to link to please email us the details and we will update this page. Thank you.