Walsingham village in Norfolk, England, UK.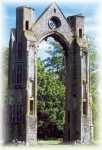 Walsingham has been a place of pilgrimage for 700 years, dating back to when Walsingham became the Premier Shrine to Our Lady in England and known as Englands Nazareth.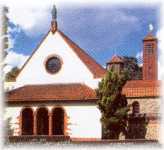 History says that in 1061 Richeldis de Faverches, the Lady of the Manor had visions of Our Lady, who showed her the house in Nazareth where the Annunciation took place and on her command built a replica of the Holy House in Walsingham.
This was added to in 1153 when the Augustinian Canons established a Priory and in 1347 a Franciscan Friary was built on the edge of the village. The village of Walsingham is unique in that it was built to cater for pilgrims and it has many rare medieval buildings.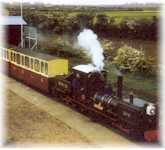 Although the pilgrimages stopped following the Dissolution of the Priory and Friary in 1538, they underwent a revival in the 1930s when the Anglian Shrine was built and the Roman Catholics established their shrine at the Slipper Chapel in Houghton St Giles.
Pilgrims once again come to Walsingham in their thousands. Walsingham is steeped in history and just by talking a walk down the High Street you will see fabulous buildings from 15th, 16th, 17th and 18th century, side-by-side.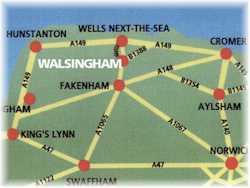 There is a wide range of accommodation, restaurants, shops and pubs available in Walsingham. Walsingham is also home to the longest 10" narrow gauge steam railway in the world, it runs from Wells-next-the-Sea to Walsingham throughout the summer and the trip lasts twenty minutes.
The Walsingham Abbey grounds contain the ruins of the original Priory, including the East Window which is magnificent. The Shirehall Museum, which was originally a Courthouse, and Tourist information Centre is open daily from the start of April until the end of October, and weekends in November, December and March.
Guided tours of Walsingham are available throughout the year.
Information Wanted
If you have any information to add or a web site to link to please email us the details and we will update this page. Thank you.