West Runton village in Norfolk, England, UK.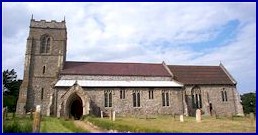 West Runton is a small, quiet village on the North Norfolk Coast close to Sheringham. Above is the Parish Church of the Holy Trinity and the War Memorial is built into the Southern perimeter wall.
You can park on the clifftop and spend a pleasant day on the safe sandy beach, playing games, building sandcastles or just lazing to top up your tan.
It is the only place on the coast of Norfolk where 'real' rock is found. The rock pools are worth exploring, but don't forget to replace stones and rocks exactly as you find them as they form important habitats.
Where the cliffs are falling look and you may find some superb fossils. After the storms in December 1990 remains of a 6-700,000 year old elephant were unearthed. Now commonly referred to as the West Runton Elephant, ribs, jaw, backbone and part of a leg were found in January 1992 and in 1995 the major excavation work was carried out to recover the rest of the skeleton. This skeleton is said to be the biggest, most complete and best preserved elephant skeleton ever found.
West Runton is home to the Norfolk Shirehorse Centre, which has demonstrations twice daily and a cart horse parade with children's wagons rides to finish the show.
It also has a children's farm and horse riding and lessons are available.
There are several shops, pubs, restaurants and hotels to suit your needs and there is a nine-hole golf course for those of you who are more energetic.
Katharine, Duchess of Kent was a pupil at Runton Hill School.
Information Wanted
If you have any information to add or a web site to link to please email us the details and we will update this page. Thank you.