Weybourne village in Norfolk, England, UK.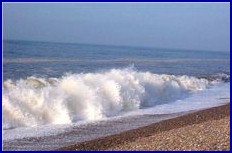 Weybourne is an old-world village with flint houses and narrow, winding roads nestled in a valley and set amongst fir woods, hawthorn and gorse and situated on the North Norfolk coast near to Sheringham. Weybourne is mentioned in the Domesday book and in that survey it is called Wabrunna.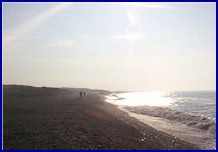 The beach itself is mainly shingle and stones with a few sandy patches, the water is very clear but swimming here is not recommended. The beach is extremely deep and is the only place on the Norfolk coast thought to be deep enough for submarines to approach in World War II.
A combination of events has resulted in a miniature canyon forming, which cuts inland by over 100m.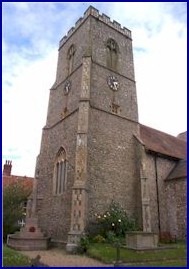 It has a quaint church, All Saints, which is mixed up with the ruins of an Augustinian Priory and the portion of the tower at the east end is of Saxon workmanship, it is well worth a visit, as it is steeped in history.
Fulmars may be seen on the cliffs, which is a very rare sight in Norfolk.
There is a first class facility for atmospheric chemistry research situated nearby.
It has many places of interest, which include The Muckleburgh Collection Britainís largest working military collection.
This is housed in a restored NAAFI building and consists of a large collection of uniforms and artefacts of Suffolk and Norfolk Yeomanry, WW2 guns, artillery, tanks and other military vehicles and equipment.
There are over 136 wheeled and tracked military vehicles to see.
Why not spend a few hours here and soak up the atmosphere.
Information Wanted
If you have any information to add or a web site to link to please email us the details and we will update this page. Thank you.