Wymondham town in Norfolk, England, UK.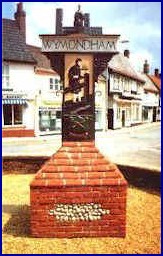 Confusingly pronounced "Win dum", Wymondham is an attractive and historic market town 9 miles outside Norwich, it has so much to offer.
Its red roofs and the massive towers of the Abbey Church set against green fields and gentle slopes of the Tiffey Valley, it is the perfect place to visit.
The town has changed with the times, but it still has a market town atmosphere.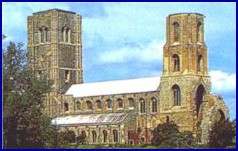 William D'Albini, Chief Butler to King Henry I founded Wymondham Abbey, in 1107, as a Priory of the great Benedictine Monastery of St. Albans . It became an Abbey in its own right in 1448 and was suppressed under Henry VIII in 1538. Since then it has served as the Parish Church of Wymondham.
It is a thriving, growing community enjoying the benefits of a recent town centre improvement scheme. There are some outstanding buildings, a range of shops to suit every taste and requirement, pubs, cafes and retail outlets.
Wymondham provides a centre for the local farming community and it has a Friday market, which is always bustling and friendly.
There are many places to take a stroll for some attractive scenery. Leisure activities play an important part in town life. A new Leisure Centre and Swimming Pool, playing fields and many active sports and social clubs and societies provide the framework for a growing community.
Riverside walks have been opened up and a local nature reserve designated.
Information Wanted
If you have any information to add or a web site to link to please email us the details and we will update this page. Thank you.